Silver Support is a part of our social security system that will always be there. The decision about who can get Silver Support is done automatically, so there's no need to fill out an application.
It's meant to provide for low-income Singaporeans 65 and older. They may have had low incomes during their working years and have saved less for their retirement. They may also not have any family support but a quarterly cash payment may help them get by.
Who is Qualified?
To be eligible for Silver Support, being a Singapore citizen aged 65 or above is the primary requirement. Likewise, you have to meet all of the criteria listed below:
You have contributed not more than $140,000 to your central provident fund (CPF) by age 55.
Self-employed persons between 45 to 54 years of age must not have earned an amount higher than $27,600.
You reside in a 1- to 5-room HDB flat.
No 5-room or larger HDB flat, no private property, or multiple properties are owned by you or your spouse.
You have low household support, where the monthly income of the household is not more than $1,800 per person.
The amount of cash in an individual's Ordinary Account and Special Account, including those withdrawn for housing, education, and investments, is referred to as their total CPF contributions.
Application is not required. Eligible seniors will get a letter from the CPF Board in December of the preceding year. Then, payments of $180 to $900 will be made every quarter. Seniors living in smaller accommodations or whose family income is less will have a higher cash supplement.
How Much Support Seniors Can Get
Seniors who are qualified will start getting Silver Support payouts in January 2021, based on:
The kind of HDB flat they dwell in
Their household monthly income per person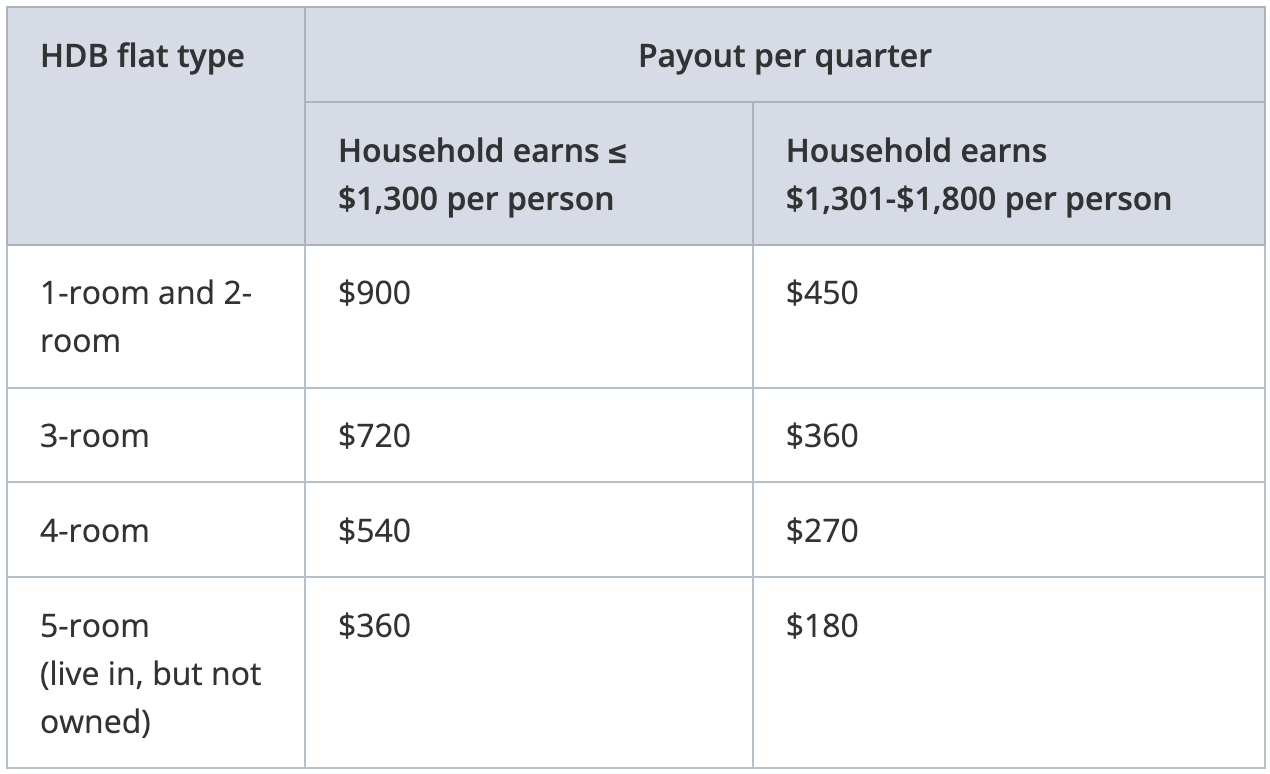 How to Receive Silver Support Payouts
Seniors who qualify may choose between two methods of payment:
Cash is automatically credited to a bank account that is registered with the CPF Board.
Cheque will be sent to their registered NRIC address if they do not have a bank account registered with the CPF Board.
Long-Term Assistance Program for ComCare
ComCare Long Term Assistance (LTA) users aged 65 or older will get a Silver Support payout of $360 per quarter, no matter what kind of flat they live in.
This aims to supplement their monthly monetary assistance from the ComCare Scheme, which pays for daily living expenses.
They will also receive:
Medical help at polyclinics and publicly funded or restructured hospitals.
Free or heavily discounted access to social support services, examples of which are:

Home assistance
Elder activity centers
Government-funded day activities
Where to Get More Information
Visit the Silver Support Scheme website.
Read the Silver Support Scheme infographic in all four languages.
Send a message to member@cpf.gov.sg.
Call 1800 227 1188 to talk to the CPF Board.
If you are having financial issues, you can ask for help at the nearest Social Service Office.
Low Lifetime Wages? No Problem
From senior group homes in Singapore to health insurances for the elderly, Retire Genie offers a comprehensive range of services to ensure that you lead a comfortable and secure life during your golden years. Trust Retire Genie to help you plan your retirement with ease and confidence.