Employers should think about all associated expenditures, such as pay and maid insurance, in addition to potential alternatives before deciding to hire a full-time migrant domestic worker.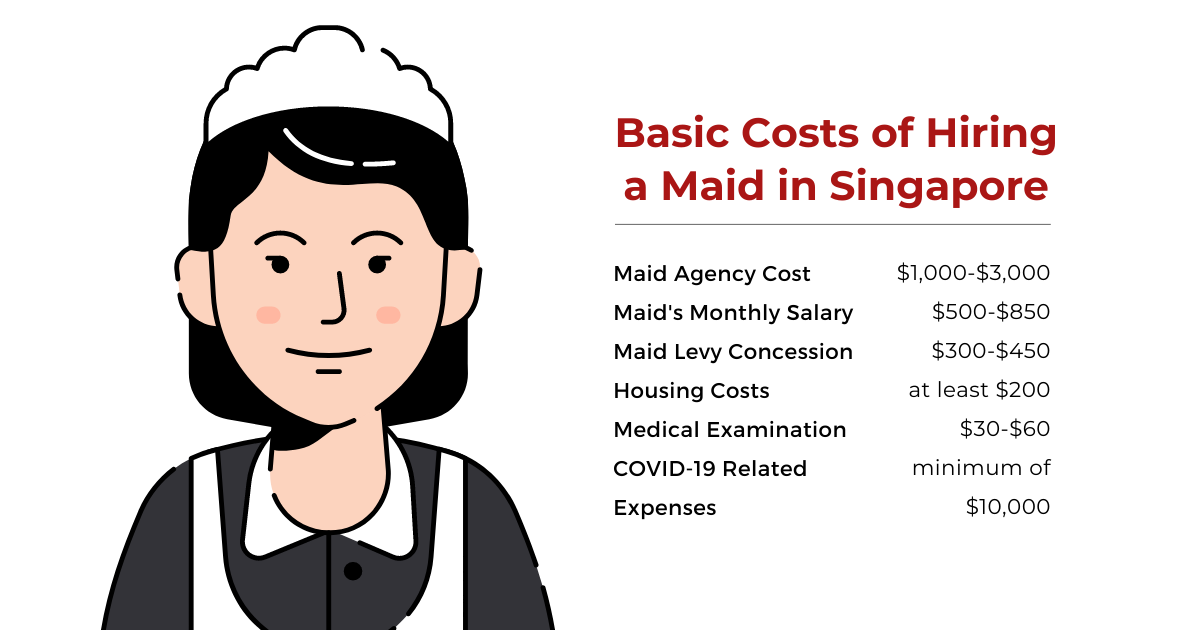 Monthly Salary of Maids
Paying a domestic helper's compensation every month is an expenditure that comes with hiring one. Also, a domestic helper's country of origin may have an impact on their pay. The bulk of the foreign domestic workers in Singapore are from nations like Thailand, Malaysia, the Philippines, Sri Lanka, India, Indonesia, and Indonesia. The costs associated with recruiting domestic workers from different nations typically have varying minimum pay depending on the MDW eligibility requirements. For starters:
Myanmar: $450
Cambodia: $500
Sri Lanka: $500
Indonesia: $550
Philippines: $570
Because they can communicate with their employers and other members of the family more easily thanks to their proficiency in English, domestic helpers from the Philippines are paid much greater minimum monthly wages. Employers in Singapore pay their domestic helpers an average income of $597 per month, which is more than the global average. The amount of experience a domestic assistant has will also influence their pay. Their predicted income increases as they get more experience. For household helpers who have:
monthly salary of $500 to $620 for one year of experience
monthly salary of $650 for two and five years of experience
monthly salary of $700 to $850 for more than six years of experience
Maid Levy Concession
Employers in Singapore are required to pay a monthly fee known as the maid levy concession to employ a foreign domestic helper. The charge aids in reducing some of the expenses incurred in Singapore for the assistance as well as education of foreign domestic worker.
Singapore's existing maid levy is $300 monthly, and it rises to $450 for every additional MDW employed. Additionally, if an employer is not capable of covering the entire costs involved for the maid levy, they may register for a concessionary levy to cover some or all of the maid agency fees.
Singapore's concessionary maid levy is available to the following families:
Households with young children or adults with disabilities that need personal care
Households where at least one member requires assistance with a daily task
Households with a senior member who is 67 years or older
Utilizing Rest Days
In Singapore, housekeepers are allowed one day off every week or eight straight days off for two months. They must also have a minimum of 12 hours of sleep every day, including an unbroken seven hours of sleep at night. The maid may not be required to work on her off by the employer, although assistance may be asked if necessary. They must pay at least a day's wage in extra compensation if this is the situation.
If she makes $600 a month in salary, the two additional days would cost about $46.50. Employers that force their maids to work more hours without compensating them are required to provide them with sufficient rest periods before letting them go home or perform other activities.
Housing Costs
Having a domestic assistant would require you to provide for another adult within the home. It is crucial to account for the additional expenses the domestic assistant will spend while she goes about her daily business and resides with your family. These additional living expenses are projected to total at least $200.
The cost of eating out as a family and going on family trips, as public transportation costs incurred, are two extra living expenditures that might arise. Some maid agencies additionally cover their employees' service fees and other extracurricular activities they engage in.
Medical Costs
Medical exams must be taken every six months by all domestic assistants as a requirement. For a maid in Singapore, their employers will be sent a letter or an email informing them to bring their assistant to the local clinic for a pre-employment medical examination. Also, a medical checkup can cost anywhere from $30 to $60 for each appointment, depending on the facility, for a total of $60 for two yearly visits.
Maid Placement Charges
Many agencies will demand an upfront placement fee from you when you hire a maid. This is typically equal to one month's income for your maid and is intended to pay for the security bond and other administrative charges associated with the settling in programme, such as helping her find employment, providing training, and having a physical. Charges for maid loans or placement are not reflected in your costs because you will be paying the loan back in the initial stages through deductions from the maid's wages.
Recurring Costs and One-off Costs
When employing a maid, in addition to your monthly recurring fee, you'll also have to shell out for other one-time fees like health insurance, transportation, a medical assessment, a maid agency fee, and application fees.
The ideal option is to use a maid agency if you are employing the services of a maid and don't have a particular person in mind. Also, you can get advice on choosing the perfect help depending on your demands from the suitable maid agency. The majority of agencies charge a non-refundable fee between S$1,000 and S$3,000 to meet administrative expenditures.
COVID-19 Related Supplementary Expenses
The expense of importing a domestic worker from her native country for COVID-19 is far higher. First, the Ministry of Manpower must approve the worker's entry, and the employer must make sure the worker completes a valid COVID-19 swab test before leaving her home country. To pay for any COVID-19-related medical expenses that may be incurred, the employer must additionally obtain extra medical insurance for the domestic assistant with minimum additional costs of $10,000.
Average Hourly Rate for a Maid
If the cost of employing a full-time maid is prohibitive, you might want to think about hiring a part-time maid. Also, you may save a lot since the cost of hiring a maid in Singapore maid will typically cost $17 per hour during the week and $20 per hour on the weekends in Singapore, along with the maid agency costs that vary from $200 to $300. If you need assistance with your young child, think about employing the services of a part-time nanny through FDW eService which typically costs $21.
Is It a Good Idea to Hire a Domestic Helper From A Maid Agency?
When considering employing a domestic assistant, keep all of these expenditures in mind. Consider alternative possibilities, such as a part-time caregiver, if it is only for caring, since they may be less expensive and less expensive in the long run.
At every step, Retire Genie offers caring services for your elderly loved ones. For your loved ones to be active and involved, our skilled care specialists, elderly caregiver, or live-in caregiver in Singapore may offer companionship, nursing home care, nighttime caring, home therapy, and far more nursing services.